Yesterday, I got home from work to find the most awesome package! It was my backtack kit! I knew what it was, but couldn't open it right away because, hello!, it was Halloween and my three children were running around like chickens with their heads cut off! I got everyone costumed and out the door, but then there were these other kids that kept ringing my doorbell and demanding candy! So there it sat, tantalizingly. Finally, after all the brou-haha, Carmen joined me and we sat down and unwrapped this fabulous treasure from...
Totally Crunchy
! Here are the pics:
This is the long view. I tried to show everything, but I just couldn't! There was too much! Do you see how the bag incorporated some of my favorite colors? The lime and the red? The main body of the bag is this terrific asian patchwork fabric with beautiful birds and flowers on it. I just love it! She lined it with the green stripe that is on the bottom of the bag as well as including a great zipper pouch in the same green stripe. Fabulous!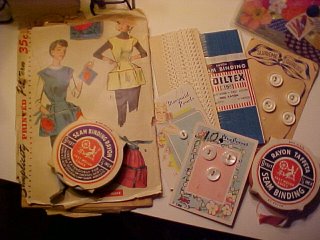 See the vintage goodness! See the apron pattern! The binding tape, buttons! Yum!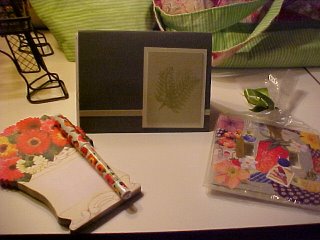 Look at this! On the right is a gorgeous light switch cover that she decoupaged with tons of pretty images! Love it so much! The card in the center is another thing she made by hand. Isn't it beautiful? She even thought to write her little note on a seperate piece of paper so I could reuse the card! Forget it! This is going in the keepsake box! See the beautiful notepad and pen? I'm going to keep them here at my sewing machine so I can make notes as needed. I wish I could put a "shield of invisibility" around them so my children won't see them!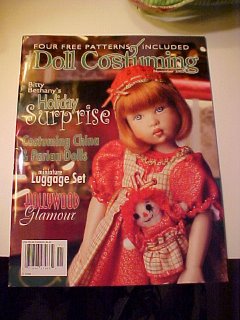 Okay, do you see this magazine? Do I even need to say anything? OMG!!!!!!!!!!!!! And we still haven't gotten to what the backtack is about! Totally Crunchy has gotten me everything I need to learn how to tat! Look!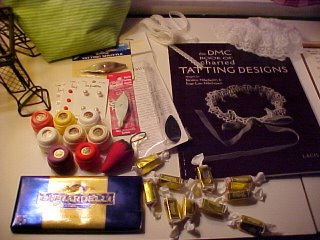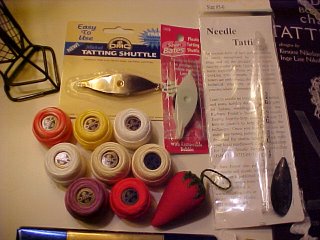 Isn't this amazing? This is the coolest stuff! Threads, shuttles, needles, and a book. You know, I'm working on a Santa who will be wearing a crazy quilt coat. I am totally motivated to learn some tatting so I can add it to the coat! Awesome! (Believe me, I'll be sharing my efforts here as I progress!) Do you see the strawberry emery? Isn't it great? I think she made that too! I hung it from my eiffel tower lamp-it looks so cute! In the edible department there were two boxes of yummy Krimpet Kakes and a Ghiradelli chocolate bar that I've been eating while writing this! And a handful of yummy Werther's!
I loved everything so much that I've even allowed a photo of me with the bag! It is perfect! Perfect colors, perfect size! It is here at work with me holding all my stuff! Dear backtack friend, you have made me so happy! You've only disappointed me in one way---you blew the budget!!! Girl! You're gonna make me look bad when my recipient gets her bag! But, seriously, thank you, thank you, thank you! I am so honored to meet you and to be treated so well! You have really made my day today. Even though I opened it last night, it is today that I really needed a nice thing from a friend, so blogging this makes it new all over again! Thank you!